For most Halloween is a time of make-believe, where people can dress up and become the thing they've wanted to be all year. But sometimes the misguided support of friends, family and the local Kmart causes things to go horribly awry. So, here's a sampling of the good, the ugly and the just plain worst Halloween costumes ever...
Rock Lobsta
There is nothing funny about pretending to cook a baby dressed as a lobster! Okay maybe it is a little funny, but who would do that to their child!?!

Plug me in baby
...
As a married woman there is nothing I hate more than those kitschy, tacky couples outfits I see hanging on the rack at my local Party City. The nut and bolt, lock and key, bacon and eggs, salt and pepper, and the list goes on ad infenitum. Not only are these costumes boring and unimaginative, their effectiveness hinges on sexual innuendo that borders on sexism. If I were ever to wear one of the ghastly outfits, I would purposely switch gender roles just to jazz it up.
Meat and Two Veg

How the girl in the middle (she is the penis, so I am assuming she's the leader) got her girlfriends to agree to this getup I'll never know.
Lost
made this costume from a new toilet seat, or so he says.
Dr. Kill Joy

It's not a good idea to dress your kid as a blood-spattered doctor complete with a stabbing syringe unless you want him to be on the school's psycho watch list. I just love this kid's look of homicidal rage.
Any man or woman who dresses up as a rubber bag that imitates fart noises is unworthy of my respect. And just in case you were wondering, yes, there is a child version.
The Producers
I'd say his depiction of the fuhrer needs to be rethought by his parents. The sippy cup is a plus.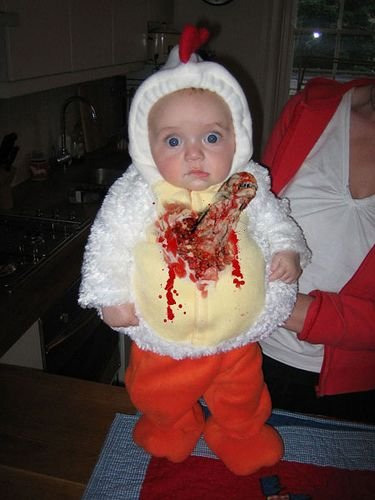 I know I complained about the lobster baby costume at the beginning of this post, but the horror fan in me compels me to love this costume. Clearly one parent wanted this kid to be dressed as a chicken while the other wanted the chest burster from Alien. Marriage is all about compromise.